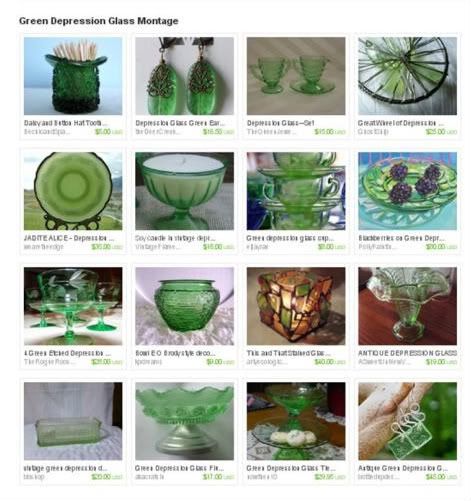 It comes in different colors, designs, shapes and sizes and is referred to as "depression glass, but finding one of these colorful pieces of glass, always brings me joy.
I was recently included in a treasury of green depression glass. My inclusion was a green glass bowl. Being from Ohio, this glass is very plentiful and many discard it, but the fact that is was made in U.S.A., and was pressed glass was enough to catch my eye.
Depression glass was manufactured during the Great Depression between the 1920's and 1940's in the midwest, and often given away as promotional pieces; included in oats, laundry soaps, given at movie theaters and gas stations. The manufacturing process of pressing the glass into molds allowed it to be made very inexpensively.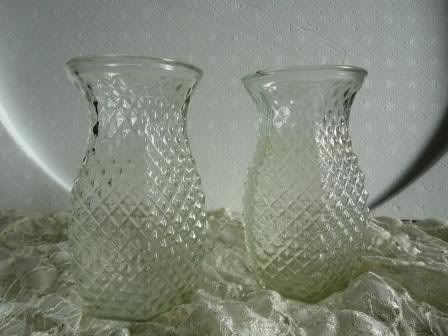 Depression glass was made in several colors; from amber, pink, green, blue, green and clear, and others as well. Most people recognize the pink as it seems to be the most sought after, but in fact, each color was made from the same molds during the same time period. White or milk glass is a form of depression glass as it was also created by using molds.
Take a look at some of the various depression glass items I currently offer and remember the first time you saw a piece of this glass. See, it isn't depressing at all.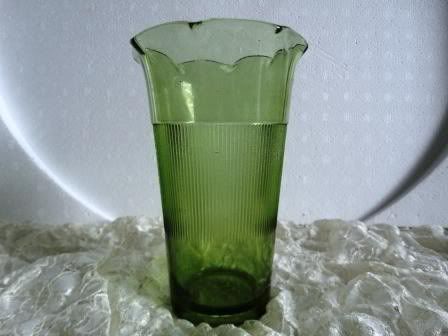 I hope you enjoyed this look at the past, and I want to remind you that the end of my Etsy 20% off sale is fast approaching. Click on the round Etsy button at the top of my blog and visit my finds of days gone by and handmade objects. This sale ends January 31, 2011; so don't delay.